FUND PURPOSE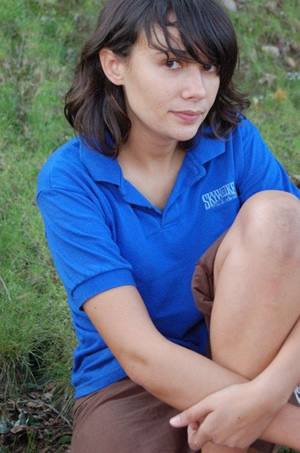 The Sylvia Bingham Fund will support two categories of primarily grassroots organizations:
• Those that support efforts to improve "street safety" such as (1) educating drivers of motor vehicles to be safe around bicyclists; (2) educating cyclists to be more conscious of the inherent danger of cycling and steps that can minimize the danger; and (3) working with government transportation agencies, urban planners and legislators to adopt street safety measures.
• Those that engage in work that reflects the values that Sylvia had developed in her all-too-short life, such as the organizations that she worked for:
City Seed
in New Haven and
Hard-Hatted Women
in Cleveland. Sylvia loved good, healthy food – growing it, cooking it, eating it. She was aware of the disconnect between much of the "food movement" and low-income communities. An example of an organization that she would have loved to support is the Oakland-based organization
Love Cultivating Schoolyards
. Sylvia's social justice activism went beyond food issues – forming a social justice club at her high school with the help of Next Generation, opposing military recruiting on high school campuses and demonstrating for a just peace throughout the Middle East.
RIDE TO MARK SYLVIA'S DEATH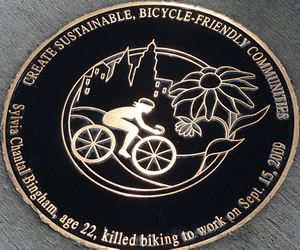 Participants on the third memorial bike ride in Cleveland on September 15, 2012, dedicated this bronze plaque in the sidewalk at the intersection of 21st St. and Prospect Ave. It expresses the hope of the Sylvia Bingham Fund that all of us will work to "create sustainable, bicycle-friendly communities."
THE GHOST BIKE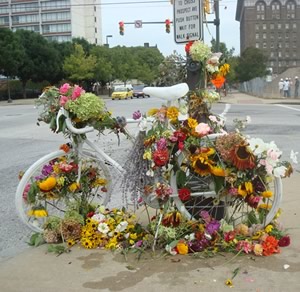 The Ohio City Bike Co-Op has placed a Ghost Bike on the corner of the tragic accident. You can participate by locating an area where an actual bicycle accident took place or is likely to happen. Paint an old, worn-out bicycle entirely gloss white. Add a placard with the information of the accident and lock it to a suitable object near the scene of the accident, preferably with the approval of local authorities. Please do not position the ghost bike in a way that increases the risk of future accidents. The ghost bike idea seems to have originated with a project by San Francisco artist Jo Slota.
Ghost Bike Wiki >>
I would rather be ashes than dust!
I would rather that my spark should burn out in a brilliant blaze than it should be stifled by dry-rot.
I would rather be a superb meteor, every atom of me in magnificent glow, than a sleepy and permanent planet.
The function of man is to live, not to exist.
I shall not waste my days trying to prolong them.
I shall use my time.
— Jack London (1876-1916)