Grants of $1000-3000 made by Sylvia Bingham Fund
2022
Schools for Salone (Village Bicycle Project)
SBF made a grant to Schools for Salone in 2015.  Steve was a Peace Corps Volunteer in Sierra Leone from 1965 to 196.   This new grant is the result of a SfS partnership with Village Bicycle Project and will fund the purchase of 47 bicycles for students at two schools built with funding provided by SfS.  The 2020/2021 academic year exam scores from one school were among the highest in the district, a tremendous accomplishment for a remote school in its first year in a permanent school building.
Many students have had to walk several miles to their schools each day. Making bicycles available to those who must travel farthest will have a significant impact on their lives.  The walk to and from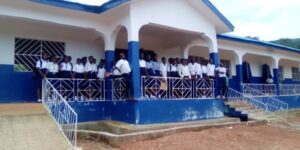 school can be dangerous, especially for girls.  Having a bicycle will reduce barriers to education and encourage students who live far from the school to stay in school and attend every day.  The bicycles will also become an asset to the students' fellow villagers who often walk miles to shop and farm.
A team of experienced trainers and mechanics will provide a half-day workshop on basic bicycle maintenance.  A school administrator will have essential bicycle tools and the knowledge to help maintain the fleet of bikes.
2021
This grant supports a new WBR project, Women on Wheels to address the problem that, as communities begin to reopen and rebuild from the pandemic, women and girls are at risk of being left behind. Existing gender disparities in developing regions have only increased.  With bicycles,

women and girls have the opportunity to build back stronger. Women on Wheels is committed to providing bikes to 8,000 women and girls to ensure their chance at a resilient future.  The WBR model builds a sustainable bicycle infrastructure, employing more than 50 assemblers globally, to build and deliver rugged Buffalo Bicycles and train local bike mechanics.
This general donation was timed to benefit from Cleveland's Rock Community Challenge which matched all donations during a specific short time period.  Bike Cleveland's continuing work to make Cleveland safer for cyclists included this year the beginning of a program to equip Cleveland's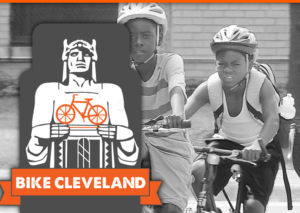 garbage trucks with side guards.  These guards prevent pedestrians and cyclists from being swept under a turning truck which collides with them, as happened to Sylvia when a 40,000 lb. Leff Electric truck crushed her in 2009.
This is a repeat grant to support the ongoing work of Walk San Francisco, most particularly its project shepherding the San Francisco Chapter of Families of Safe Streets, with which Steve works on a daily basis.  Members of FSS/SF are traffic crash survivors and the loved ones of people who

have been killed or injured in traffic crashes.  FSS/SF's work was critical in getting the SF Municipal Transportation Agency to adopt a much-improved update of its Vision Zero SF Action Strategy: 2021-2024
Working America Education Fund
The Working America Education Fund reaches working people in their communities with good information on the issues that matter most – good jobs, a fair economy and a democracy where the voices of working people count. In partnership with Working America, the community affiliate of the AFL-CIO – the Fund provides opportunities to build voice and power together to put the concerns of working people at the top of the policy agenda: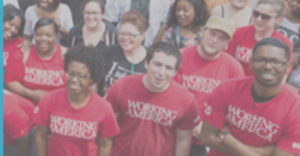 Grassroots community education to defend rights and opportunities for all working families.
Educational materials on state-specific issues such as public education, family and medical leave and an analysis of who wins and who loses under various budget and revenue policies.
Online education on workers' issues, including rights on the job and corporate accountability.
Strategic research for institutions, organizers and activists to promote good jobs, fair trade and a healthy and just economy.
California Bicycle Coalition (CalBike) is the major Statewide bicycle advocacy organization working to educate those in the California Legislature as well as State agency personnel about important issues involving bicycle safety and incentives to encourage more people to bike.  Its current strategic plan commits to 'prioritizing underserved communities in transportation spending and policy decisions; improving the built environment for biking, walking and transit; changing our transportation policies to support an equitable, environmentally sustainable, and safe future; and, strengthen the power of the transportation justice movement.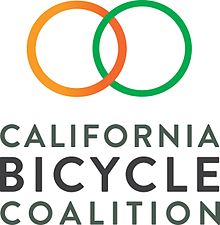 As CalBike is a 501c4 organization, the SBF grant is a restricted grant, to be used only for CalBike's educational work, not its legislative advocacy.  CalBike has done extraordinary work educating government leaders in Sacramento about the need for government support to increase cycling and to make cycling safer.  One particular aspect of this work this year which is important to SBF is CalBike's  education of legislators about the dangers to cyclists and pedestrians from turning trucks which have no underride protective side guards to prevent vulnerable road users from being swept under the truck's wheels and crushed, as happened to Sylvia in 2009.
2020
Advocating for Vision Zero — zero traffic deaths or severe injuries — means working for safe mobility for all. But given the realities in the U.S., work for traffic safety is inextricably linked to serious and dangerous shortcomings related to our criminal justice system. Not only are people of color and low-income people more likely to be hit while walking but, as drivers, they are disproportionately at risk of police stops and arrests and exorbitant fines which lead to a loss of their driver licenses.
This SBF grant supports the Vision Zero Network aims to align the work of traffic safety advocates (both in the community and in the public sector) with the work of those focused on social, racial and economic justice. One key component of this will be helping to build support for and implementation of an equitable system of fees and fines that accompany traffic safety violations. This includes a more equitable fine structure and non-punitive alternatives, such as safety trainings and restorative justice programs.
The time is right to make a real difference, given both the growing interest in Vision Zero strategies and concern that such strategies as red light cameras could (even unintentionally) worsen racial and economic inequities through an increased volume of fines.

The Vision Zero Network intends to use this grant to work with individual cities to develop pilot programs where any intendant moving violations will be designed to have as equitable an impact as possible in terms of fines and fees. VZN intends to collaborate as much as possible with the newly launched Cities and Counties for Fine and Fee Justice program, led by partners PolicyLink, the San Francisco Financial Justice Project and the Fines and Fees Justice Center.
HHW Ohio (formerly Hard Hatted Women)
Since 1979, HHW Ohio (formerly Hard Hatted Women) has helped Ohio women find skilled jobs in trades with few women, such as bricklayers, carpenters, electricians, equipment operators, HVAC technicians, engineers, plant operators, utility workers, mechanics, metal workers, painters, pipefitters, plumbers. HHW seeks women with job experience in these areas to serve as Role Model Speakers to encourage other women to work in these trades and technical careers and to mentor them once they're employed.
Pioneering programs like the Role Model Speakers Bureau (a program that provides leadership training and connections to speaking opportunities to Role Model Speakers) , Rosie's Girls (a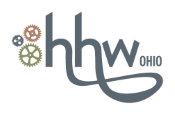 summer camp with activities to expose girls to a variety of trades and technical fields), and WISE Pathways (a career exploration course ) have inspired and provided skills to hundreds of women and girls.
HHW Ohio holds a very special place for Sylvia's parents, as it's where Sylvia worked as a VISTA volunteer for the three short weeks before she was killed in 2009. Like many non-profits, HHW struggled to stay afloat during the recession at that time. SBF made a grant to HHW in 2012. Renamed HHW Ohio has since become an all-volunteer organization, expanding its reach throughout Ohio in the past couple of years.
Rising Sun Center for Opportunity
Through its Opportunity Build program, Rising Sun provides 80 low-income adults with hands-on specialized construction skills, and universal professional soft-skills training to give them an on-ramp to family-sustaining careers in construction and solar installation, while supporting them with case management and job placement assistance to help them overcome barriers to career success.  The goal is for 80% of training participants to graduate, and 70% to be placed in employment, additional training, or union apprenticeship within a year of graduating. The average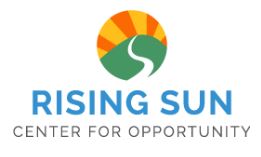 anticipated wage of those placed in employment will be $18 or more. 50% of participants will be women, and 40% will qualify as re-entry (impacted by the justice system).  The SBF grant specifically supports 28 women whose training was interrupted by COVID 19 and who need support while they shelter in place. Helping these women is particularly meaningful to Francoise and me as Sylvia was working at Hard-Hatted Women in Cleveland at the time she was killed in 2009.  As seen in this short film, HHW was a mentoring program for low-income women hoping to access 'non-traditional' jobs (i.e. those employing mostly men, such as construction and truck driving). The 28 women in Rising Sun's program are hoping to work in construction.
SBF usually makes single, non-recurring grants to organization but made an exception this year, because Sylvia's friends from her time at Yale, solicited by her roommate there, donated generously to help provide funds to the following three organizations which were very important to Sylvia in expanding her social/political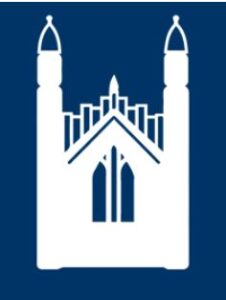 consciousness.  The first of these organizations is Dwight Hall, the Center for Public Service and Social Justice at Yale (but completely independent of Yale as a stand-alone non-profit).  It is the hub where students go to learn about and sign up for most social service projects involving Yale students.  Dwight Hall was awarded an SBF grant In 2013 to fund the Sylvia Bingham Summer Fellow at Dwight Hall.  The work involved identifying a critical need in the New Haven community and then crafting and implementing a proposal to address that need, with a view to sustaining the impact of their efforts beyond the summer.
The second of the three organizations benefiting from Sylvia's classmates contributions this year is CitySeed.   While at Yale, Sylvia interned with CitySeed through Dwight Hall. CitySeed was previously awarded grants by SBF in 2011 and 2012.  CitySeed operates several of the best-run farmers markets in Connecticut.  These markets have one of the highest redemption rates of federal, state and local food assistance benefits in the state of Connecticut – in 2018 nearly $100,000.  Perhaps this is partly thanks to a poster Sylvia designed, displayed here, encouraging low-income families to eat healthy food bought at a farmers market with their food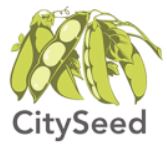 stamps and WIC cards.  CitySeed also has a Mobile Market, operated by a local high school, bringing local produce to neighborhoods across New Haven with limited access.  CitySeed Incubates provides wrap-around food business incubation services for early-stage food entrepreneurs, including mentorship and training, connections to local farmers and shared commercial kitchen space.  CitySeed launched its Sanctuary Kitchen program in 2017, partnering with immigrant and refugee chefs to build economic opportunity and intercultural understanding through food. CitySeed also founded and continues to serve on the New Haven Food Policy Council, an advisory city commission advocating for healthy food for New Haven residents.
The New Haven Urban Design League
The Urban Design League is the third of the three organizations benefiting from Sylvia's classmates fund-raising effort this year.  The League is an independent voice on planning, zoning and development issues affecting New Haven's neighborhoods. It was founded by citizens devoted to protecting and enhancing New Haven's natural assets and urban design through research, education, and advocacy. The League works to improve the quality of life in New Haven by supporting projects that sustain the

culture, beauty, utility, and economic health of the city — both in its neighborhoods and in its region. The League seeks to strengthen the civic culture that is the foundation for good government, good planning, and good development.  The League works with neighborhood groups, businesses, elected officials, and government agencies.  Sylvia learned of Its strong advocacy and spent much time interviewing its director while researching her senior thesis examining the consequences of a re-make of a public housing project in New Haven.
2019
FRESH – New London 
FRESH – New London is a community farm and educational hub in one of Connecticut's poorest cities, dedicated to building a healthy and just food system. FRESH reclaims unused urban spaces for gardens. Also, The FRESH Farm to School Campaign started at the request of youth and has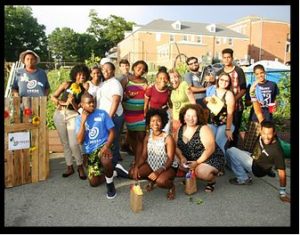 increased local foods served in schools.  Every New London public school now has its own edible garden maintained by students, parents, teachers, support staff and cafeteria staff. The recent community-led Edible New London initiative has begun to install edible garden "snack beds," growing culturally-appropriate foods on unused public land, providing nearby residents access to a quick snack and gardening inspiration.
San Francisco Families for Safe Streets – WalkSF
San Francisco Bay Area Families for Safe Streets (FSS) is one of the chapters of a national Families for Safe Streets movement of survivors and families whose loved ones have been killed or seriously injured due to dangerous or reckless driving.  The goal of FSS is to end preventable traffic violence and make streets safe for everyone. Turning grief into action, FSS works to make Vision Zero a reality.  FSS members share with policy makers the stories of their lost loved ones and organize San Francisco's  World Day of Rem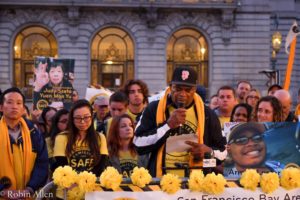 embrance each year.   FSS is a project of WalkSF, which is a pedestrian-focused street safety advocacy organization with a mission to make walking safer, increase the percentage of children  walking and children biking to school and increase the number of trips made on foot with a goal that all San Franciscans spend 30 minutes walking per day.
Ecole Jardin Vert – Haiti
Oganizasyon Timoun se Limye Ayiti Inc is a non- profit organization based in Miami, founded shortly after the 2010 earthquake in Haiti. It initially provided subsidized tuition for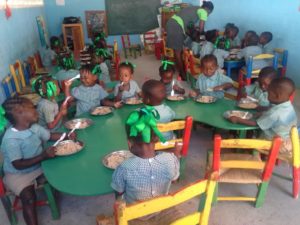 underprivileged Haitian children.  In 2013, the board decided to open Ecole Jardin Vert (The Green Garden School) (EJV) where more children can benefit from access to quality education.  Aside from creating a safe and rich learning environment, EJV seeks to establish a strong community atmosphere among parents, teachers and children, guided by the principle that all children should be given the opportunity to reach their potential.  The children, ages 2 1/2 to 8, are in pre-k to second grade.  EJV just started a school garden.
Unfortunately, students were skipping school because the parents couldn't afford to buy them lunch.  Students only got cookies or hard candies.  Ecole Jardin Vert decided to provide free lunches for all the students, understanding that learning cannot take place if a child is hungry.  Beginning end February 2019, EJV began providing free meals.  The change was dramatic: school attendance is now 100%.  The SBF Grant will pay for lunches for over 170 students for the rest of the school year.
Climate Ride – Sustainable Marin & Transform
Climate Ride is a non–profit that organizes bike rides and hikes whose participants raise funds for organizations which work on the environment, conservation, sustainability, climate
education, and active transportation advocacy.  Wendi Kallins, a local Marin activist on cycling and housing issues, will be riding in June more than 200 miles with the Carbon Crushers Team, starting in Santa Cruz.  Wendi is the co-founder and Program Coordinator for Marin Safe Routes to Schools, the national model program. She is Board President of Sustainable Marin and is on the MTC Policy Advisory Council. She has been actively promoting sustainability,

affordable housing and green transportation countywide for 35 years.  Wendi will be riding to support two organizations.  Sustainable Marin has four goals: to sustain Marin County's natural capital and environmental assets, bolster localized economic strength and independence, expand locally-owned green businesses and clean-tech jobs and encourage community cooperation and social justice.  Transform's vision is healthy, connected communities, with a particular focus on benefits for low-income people, people of color, youth, seniors, and people with disabilities.  Success is measured by a reduction in transportation pollution, a decrease in the combined cost of housing and transportation, more people walking and bicycling and doing so more safely, greater access to jobs via public transit and other affordable options, and more leaders from and priorities for underrepresented and impacted communities.
Barbara Lee: Warrior for Peace and Justice
This grant supports the production work on Abby Ginzberg's latest film, Barbara Lee: Warrior for Peace and Justice.  Barbara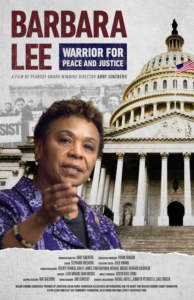 Lee has served for over 20 years in Congress, advocating for peace and justice, funding for HIV/AIDS, economic development programs and reproductive rights.  Abby has been producing compelling documentaries about race and social justice for over 30 years, including And Then They Came for Us (2017), about the connection between the incarceration of Japanese Americans during WW II and the current Muslim travel ban, Agents of Change (2016, co-produced and co-directed with Frank Dawson), profiling black student protest movements of the late 1960's at San Franciso State and Cornell University, Soft Vengeance: Albie Sachs and the New South Africa.  This grant recognizes the important political reach of Abby's films but is also personal for Francoise and Steve, both because they met while making political documentaries in France in 1978 and because of their long-term friendship with Abby.
2018
Generation Our Climate is a student-founded and student-run organization dedicated to youth activism, advocating for meaningful, science-based government and other public actions to address climate change. GOC members range from 13 to 17 years old and come from four schools in Marin County and one school in San Francisco. The group wants to expand its membership into other areas in California to better represent Generation Z interests and increase GOC's social and ethnic diversity. GOC has a close working relationship with Our Childrens Trust https://www.ourchildrenstrust.org and is developing working collaboration with West Oakland youth and other emerging youth groups in the US.
This grant will support GOC's efforts to collaborate and potentially 'merge' with the youth-led No Coal in Oakland, which formed with the help of 350.BayArea. This youth group has been actively demonstrating and testifying to stop development of a major coal terminal proposed for the Port of Oakland.  The two youth groups have met and discussed joint climate activism.  This grant will help fund GOC's work with No Coal in Oakland, including efforts to expand the number and diversity of youth actively participating in climate change activism. Anticipated expenditures include transportation costs, fliers created jointly for distribution at schools and events and limited stipends to youths with financial need.
Mark Kitchell's Film, Evolution of Organic 

Evolution of Organic is the story of organic agriculture, told by those who built the movement. A motley crew of back-to-the-landers, spiritual seekers and farmers' sons and daughters reject chemical farming and set out to explore organic alternatives, leading to a cultural transformation in the way we grow and eat food. By now organic has gone mainstream – split into an industry oriented toward bringing organic to all people, and a movement that has realized a vision of sustainable agriculture.
Evolution of Organic is not just a history, but looks at exciting new developments: no-till and urban farms, Latino organic growers, carbon farming (taking carbon dioxide out of the air and putting it in the ground).  The film also looks "beyond organic," from soil microbiology as the next new frontier to visions of a regenerative agriculture that restores everything from the ecosphere to the human spirit.
Mark Kitchell is a committed progressive filmmaker, perhaps best known for "Berkeley in the Sixties," chronicling the Berkeley Sylvia's dad knew during his years in law school.  Sylvia would have been fascinated by this extensive and thoughtful presentation of organic farming, a critical component of saving the planet.
CyclistVideoEvidence.com (CVE)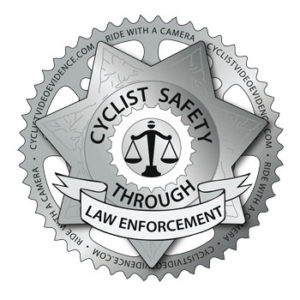 CyclistVideoEvidence.com (CVE) was created to empower cyclists with a new tool to bring transparency and accountability to the legal system as it deals with cyclists whose lives are put in danger by motorists who drive to close to them when passing.  Such buzzing is now explicitly illegal under California's new 3-foot passing law, passed in 2014.  By encouraging cyclists to submit online video recordings of such egregious incidents of assault and reckless driving, CVE believes drivers can be identified and held to account before they injure or kill a cyclist.  CVE's Incident Management System helps police search for repeat offenders and identify hot spots of reckless driving behavior.  As a result of CVE's advocacy with the California Highway Patrol, CHP now mails warning letters to reckless drivers when a cyclist notifies them that they were buzzed.  This work is unique in the country, representing a creative low-cost approach to improving notoriously lax law enforcement against motorized vehicles interacting illegally with cyclists.
Meiklejohn Civil Liberties Institute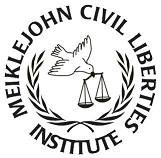 The mission of the Meiklejohn Civil Liberties Institute is to bring the United States into compliance with existing human rights law, including rights to housing, a living income, education, due process of law, freedom of speech, and freedom from discrimination, e.g. racism, classism, homophobia, sexism and ableism.
Born out of activist movements of the 1930s and 1960s, MCLI was founded by Ann Fagan Ginger in 1965. MCLI advocates in alliance with communities directly experiencing human rights violations and also provides information and technical assistance to lawyers, activists, legislators, judges, government officials, students, media, and professors on the use of little known existing human rights laws. MCLI also files reports with the United Nations regarding U.S. violations of the Universal Declaration of Human Rights and other human rights treaties and encourages similar reporting by non-governmental organizations and local governments. MCLI has been closely associated with the National Lawyers Guild from its founding. Steve served on its board of directors for several years. Steven DeCaprio was recently named interim executive director, replacing Ann Ginger who served as director for over 50 years.
San Francisco Coalition on Homelessness 
San Francisco Coalition on Homelessness (COH) has for over 30 year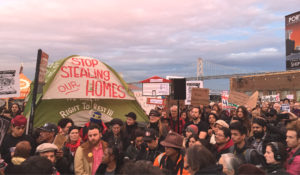 s been developing the leadership skills of homeless San Franciscans to "forge true solutions to the housing crisis and beat back mean-spirited attacks against them."   Its mission is to "organize homeless people and front-line service providers to create permanent solutions to homelessness, while working to protect the human rights of those forced to remain on the streets."  COH has an integrated approach that combines outreach, peer support, leadership development, public education, advocacy, and community organizing. The COH Street Sheet is the oldest such publication in the US, reaching 16,000 readers through 230 homeless or low-income vendors who keep all money they earn through sales.  During his 23 years at Bay Area Legal Aid, Steve worked on many joint projects and litigation with COH.  Sylvia was well aware of the need to address homeless issues and participated in actions of Food Not Bombs to feed homeless people.  Among its many accomplishments in just the past 8 years:
legislation to reduce the runaround associated with accessing shelter
Settled lawsuit to greatly improve access and conditions for people with disabilities.
Changed shelter system requiring standing in line for up to 17 hours to a new successful call-in system.
Won local stimulus package of $3 million for new jobs in shelters and resource centers.
Ensured all homeless people in SF would receive preferences for HUD housing and obtained 1,306 housing subsidies for homeless families over five years.
Secured $2.7 million to fix up vacant public housing and turn units over to nearly 200 homeless households,
Obtained re-opening of wait lists for public housing and section 8 vouchers.
Secured funding for a new emergency family shelter
Won City funding for an emergency hotel voucher program for families without shelter.
2017
Jobs with Justice – San Francisco
Jobs with Justice San Francisco is a long-term, strategic alliance of labor, community, faith-based, and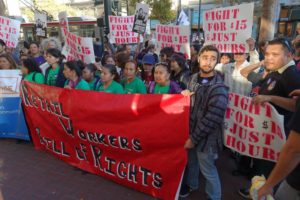 student organizations working together to build a strong, progressive movement for economic and social justice locally and nationally, fighting for workers' rights, economic justice and a sustainable global economy through organizing, educating, and mobilizing working people and their allies.  JWJ builds locally accountable multiracial coalitions of labor, community, faith-based and student organizations which are part of a national network, rooted in the principles of reciprocity, mutual respect, and the conviction that struggles for social justice should not be isolated.  Among its recent accomplishments:
The Good Jobs 4 All campaign pushes developers of new hotels to commit to hire disadvantagedl residents Bay Area, provide them with linguistically and culturally appropriate workforce training and the right to organize a union.
After the election of Trump, JWJ helped found Bay Resistance, a network of over 50 organizations which created a rapid response network of over 15,000, mobilizing them for key actions such as the Muslim ban airport protest and legal assistance. JWJ has trained over 1,000 people in basic organizing, direct action and legal observation of ICE raids.
Through the Free City College campaign, San Francisco became the first city in the nation offering tuition-free higher education for all residents.
JWJ led the effort to save St. Luke's Hospital Subacute Unit by organizing grassroots community to pressure Sutter's California-Pacific Medical Center to halt its planned eviction of 28 severely ill elderly patients, mainly people of color.
The Freedom Archives is a unique organization on the Left, dedicated to the preservation and

dissemination of historical audio, video and print materials documenting progressive movements and culture from the 1960s to the 1990s. FA also has a youth development program focused on youth engagement with these historical materials, providing media production training. FA produces original documentaries and educational resources for use by schools and organizations as tools for community building and social justice work.
The materials housed at the Freedom Archives–over 12,000 hours of audio and video tapes–include: news, poetry, music programs; in-depth interviews and reports on social and cultural issues; numerous voices from behind prison walls and recordings of diverse demonstrations and activists. FA continually scans historical documents, pamphlets, journals, newspapers and other materials from many radical organizations and movements which are free for use by young people, students, teachers, community organizations, filmmakers, activists, historians, artists, media outlets, and researchers.
To maintain its commitment to illuminate marginalized voices and stories of resistance, FA seeks no money from government or corporate sources.
Ocean Riders of Marin emphasizes the interconnectedness of all living things and our responsibility for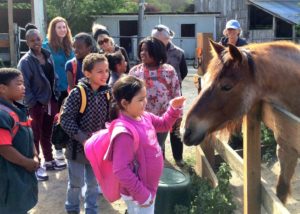 taking care of the land that takes care of us.  Ocean Riders offers a variety of opportunities for people to experience the value of connecting with a horse, the natural world, our local history, and one another while learning leadership skills and raising awareness of essential wetlands and land stewardship.  SBF was particularly drawn to the work of Ocean Riders as Sylvia took riding lessons during several pre-teen years and became a much more self-confident person because of it.  Ocean Riders has partnered in the past (or currently does so) with several nonprofit organizations serving under-resourced communities, including: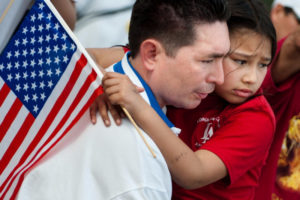 The Canal Welcome Center (CWC) in San Rafael, CA The Canal Welcome Center "works with Canal community residents, immigrants and low-income families of Marin County in advancing their social, cultural, and economic well being through self-empowerment programs that encourage participation in the broader civic life of U.S. society."  The SBF grant helps fund CWC's newest project: a Rapid Response Network (RRN) hotline to receive calls when anyone is aware that agents of Immigration and Customs Enforcement (ICE), an agency of the U.S. Department of Homeland Security, are attempting to interrogate or detain someone suspected of being an undocumented immigrant.  President Trump has threatened increased ICE activity in areas such as Marin County which refuse full local police cooperation with ICE.  The SBF grant was provided in response to a crowd-funding campaign which raised over $10,000 in ten days. These funds will enable the RRN Hotline to launch by the end of September.  Such community support will hopefully help leverage larger support from a large community foundation to keep the Hotline operational over the next year.
WMCS helps West Marin's most vulnerable residents with a range of programs from the Food Pantry to

emergency grants and child care scholarships.  SBF's grant will support WMCS' Abriendo Caminos (Finding our Path), a partnership between West Marin County agencies and the local Latino community to increase civic engagement and leadership.  Latinos are taking a more active role in building a healthy West Marin while Abriendo Caminos provides support through workshops, trainings, community cultural events, networking and mentoring.  More recently, because of federal threats to deport non-citizens, legal advice on immigration status and related help are being provided.   For example, numerous Know Your Rights workshops have taken place and a 'Rapid Response' Network is being developed to send alerts, verify rumors of actions by the US Immigration and Customs Enforcement (ICE) and coordinate volunteer assistance.  The additional funding from SBF will help expand outreach efforts to ranch workers who have had difficulty participating due to transportation and work schedules and to expand programming to Bolinas/Stinson Beach and San Geronimo/Nicasio.
Most new refugees lack access to a car, and many struggle to get around on a public transportation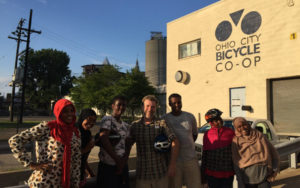 system that continues to cut service and raise fares.  The Cleveland area receives approximately 1000 new refugees each year.  The Cleveland Refugee Bike Project will provide 50-100 of these refugees with a bike – an economic lifeline that can connect them to new employment, educational, and social opportunities in Northeast Ohio.  Each participant will attend a bike safety and traffic skills course run by the Ohio City Bicycle Co-Op.  Each course will be culturally appropriate for the refugees participating, with instructions – both written and verbal – in English and the participants' preferred languages.  Once participants complete these trainings, they will receive bikes, helmets, locks, and lights.  SBF continues to support the work of BikeCleveland and the Ohio City Bicycle Co-Op, especially as it makes cycling safer and more accessible to low-income communities.  Cleveland was Sylvia's home for a short time in 2009  until killed at 21st  and Prospect biking to work.
2016
Hospitality House (HH) has a deep commitment to peer-driven services and leadership.  More than 90%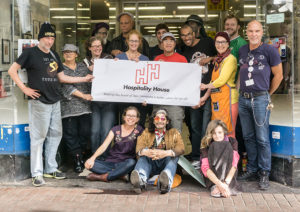 of its staff are former program participants or have personal experiences similar to those HH serves.  Peer staff ensures that HH remains rooted in the community.  HH's ability to successfully connect people to appropriate services is largely due to the staff's ability to understand the specific circumstances of each participant and to utilize their personal and professional experience to connect them to resources.  HH has programs in Community Arts, Community Building, Employment and Shelter and also runs the Sixth Street and Tenderloin Self-Help Centers.  While working at Bay Area Legal Aid, Sylvia's dad, Steve worked closely with three people now on the HH leadership team, especially Joe Wilson with whom Steve worked on welfare rights organizing.  He also worked with Mara Raider and Jackie Jenks, HH's director who sadly just left HH after more than 20 years because she can no longer afford to live in the Bay Area.
Positive Spin was originally started in 2005 as a community bike shop that would help anyone learn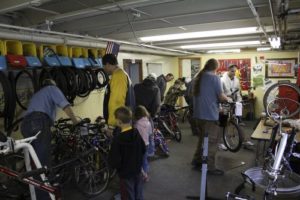 how to ride for transporation but, a week later, Hurricane Katrina hit the Gulf Coast and the mission changed to bike recycling for disaster relief.  200 collected bikes were sent directly to the storm-affected regions.  When donated bikes kept coming in, Positive Spin was officially chartered as a non-profit and now receives approximately 1000 donated bikes each year. Many are repaired to provide affordable transportation I\in Morgantown.  The rest are shipped overseas where affordable basic transportation is needed.  Positive Spin's mission has expanded to supporting sustainable transportation of all forms – walking, biking, bus and carpooling – to make Morgantown a nicer place for everyone. Included in its charter are bike safety/maintenance education and advocacy with government agencies.  Positive Spin now serves several hundred local citizens every year. Proceeds from bikes, parts and repairs help support its operations.  Our personal connection to Positive Spin is that Steve's nephew's brother-in-law serves on its Board of Directors.

The mission of Solar Cookers International (SCI) is to spread solar thermal cooking technology to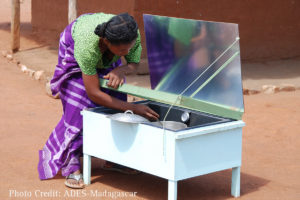 benefit people and environments.  Nearly 3 billion people have inadequate household energy.  Solar cookers are a sustainable and environmentally responsible tool which helps families fight poverty and disease, and changes women's and children's lives for the better.   In addition to the health burden from smoke inhalation, burning solid fuels releases emissions of carbon dioxide, methane and other ozone producing gases such as carbon monoxide, as well as sunlight-absorbing particles like black carbon and brown carbon.  Unsustainable wood harvesting also contributes to deforestation, reducing carbon uptake by forests. What distinguishes SCI is a combination of projects, partnerships, advocacy and outreach to the global solar cooker community, supporting more than 500 organizations and individuals around the world to share solar thermal cooker knowledge, particularly with those who have the greatest need.  The mission of SCI resonates with us because of Steve's Peace Corps experience in Sierra Leone in the 1860's and Sylvia's semester in Mali in 2006, both countries which a very high percentage of families burn wood for fuel.
The Rachel Corrie Foundation, named after Rachel Corrie, who was killed at age 23 in 2003 while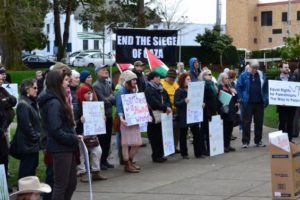 protesting the demolition of a Palestinian home, continues the work she began and hoped to accomplish.  RCF's work fosters connections between people, builds understanding, respect, and appreciation for differences, and promotes cooperation within and between local and global communities. RCF encourages and supports grassroots efforts in pursuit of human rights and social, economic, and environmental justice.  RCF is guided by principles reflecting Rachel's vision and philosophy that injustice must be challenged and non-violent resistance to oppression must be included in the way we define ourselves as a community.  Rachel was killed a month before Sylvia's 16th birthday and was deeply felt by Sylvia who later participated in Palestinian support activities and was a founding member of 14 Friends of Palestine, a local Marin group that raises money for organizations working for peace and justice in Palestine.
2015
Schools for Salone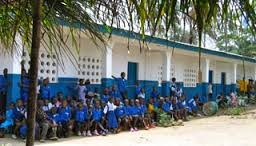 Schools for Salone partners with local villages in Sierra Leone, West Africa, to rebuild the schools devastated in the ten-year civil war that ended in 2002. They have built 18 schools and 3 libraries since 2005. Once funds are raised, new schools are built in three months.  They have also trained teachers at intensive summer institutes.  Steve has a particular interest in Sierra Leone as he served in one of the early Peace Corps groups there, doing community development work from 1965-1967.  He recently organized his fellow PCV'ers to donate to SFS.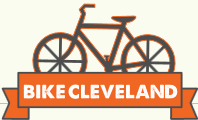 Bike Cleveland
Bike Cleveland's vision is to build livable communities by promoting all forms of cycling and advocating for the rights and equality of the cycling community in Greater Cleveland's neighborhoods. BC works to increase ridership and advocate for cycling safety and accessibility through planning, legislation, legal protections and comprehensive, supportive infrastructure. Bike Cleveland has a number of campaigns: Our Safer Streets Campaign, advocating for bike lanes and legislation such as a 3-foot passing law; Safe Routes to Schools; and infrastructure improvements. The SBF grant will purchase bike lights to be distributed to low-income cyclists during the Random Acts of Brightness campaign.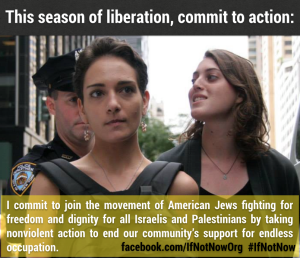 If Not Now
If Not Now is an emerging movement of young American Jews organizing to end the American Jewish Establishment's support for the ongoing occupation of Palestine. If Not Now believes that Jewish liberation is inextricably bound to the freedom and dignity of the Palestinian people. If Not Now has taken aim at mainstream Jewish leaders, demanding that they take a public stance against the occupation of Palestinian lands. Organizers say they are trying to fill a void in the Jewish community by taking on the official spokespeople of American Judaism that march in lockstep with Israeli actions – See more at: http://mondoweiss.net/collapse-israel-consensus and https://actionnetwork.org/sign-up-to-attend-an-if-not-now-training .  SBF is excited to support this work in part because the brother of one of the founders of If Not Now was one of Sylvia's childhood friends.

The Algebra Project
The Algebra Project uses innovative mathematics teaching models as an organizing tool to ensure quality public school education for every child in America. Based on the best educational research and practices, AP develops sustainable, student-centered models of teaching mathematics by building coalitions ofstakeholders within local communities, particularly historically underserved populations. AP works with communities to take ownership of their own community building and mathematics education reform efforts in both high schools and middle schools. AP was founded in 1982 by Bob Moses, who did Algebra Project logoground-breaking work helping to lead the Student Non-Violent Coordinating Committee (SNCC) in its voter registration efforts in the 1960s.  Sylvia's father worked under Bob in the fall of 1963 and summer 1964.  That civil rights work culminated in legislation to protect the fundamental right right to vote. For a third of a century, since 1982, AP has worked to establish another fundamental right: the right of every child to a quality public school education.  See http://www.algebra.org/
Go Conscious Earth
Go Conscious Earth works to protect Congo Basin rainforests and the animals that live there by partnering with indigenous communities to eliminate extreme poverty and cultivate sustainable practices. When multinational companies take over these lands for logging or farming, not only do they destroy the rainforests, damaging the earth's environment, but they devastate the lives of the people living there. GCE has conserved one million acres of rainforest so far, while at the same time responding to community needs with simple projects that work, such as freshwater wells, schools, health clinics, sustainable farming and fishing. SBF was drawn to GCE because of its focus on working with indigenous communities, an approach often lacking in environmental organizations. Also Sylvia's cousin Candor Plaza is an active member of GCE's board of directors.
Coleman Advocates for Children and Youth
SBF last gave to Coleman in 2013 (see entry under that year). SBF is excited to continue its support as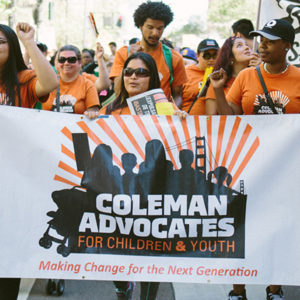 Coleman celebrates its 40th year of youth and parent-led school and community transformation. Coleman continues to be the leading voice for low-income children and families in San Francisco and has established a national model for its pioneering combination of youth and parent engagement, leadership development, and direct services. Among reforms designed to improve the quality of education for all students this year was Coleman's work in its multi-year Solutions Not Suspensions Campaign: at Coleman's urging, the San Francisco Board of Education:
Passed the landmark Safe and Supportive Schools Resolution that will transform the district's approach to school discipline, and
Approved a new MOU between the school district and the police department that is designed to reduce student arrests and police presence on school campuses.
Beyond Differences
Beyond Differences is a unique organization that addresses social isolation in middle school. The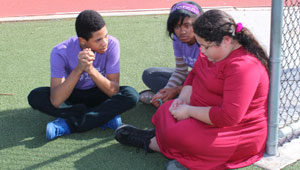 founding parents of Beyond Differences lost their daughter Lili at age 15. The organization "grew out of the experience of a child [who] … went through the pain of social isolation…. Life for adolescents is difficult enough, and being left out at school for differences, regardless of what kind they are — only adds to the challenges young people face. We no longer need to accept or see "exclusion" as an inevitable part of school culture. Beyond Differences believes that middle school and high school students can and will find ways to connect with one another in a deeper, more meaningful way…. We are a student-led organization. We believe that change can only be true and lasting if the agents of that change are teens themselves." Steve and Francoise supported Beyond Differences last year, as did SBF this year. They are particularly touched by the work done by Beyond Differences as Sylvia spontaneously reached out to those around her who felt such social isolation while in middle and high school.
Rich City Rides
A small organization in Richmond, CA, one of the poorest cities in the San Francisco Bay Area. Rich City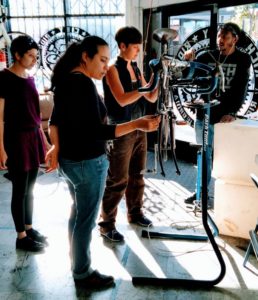 Rides believe in using "cycling as a method to increase healthy activity, community skill building, build businesses and create opportunities for the most vulnerable members of marginalized communities comprised primarily of ethnic minorities/people, of color. Our program is unique, as local residents and community volunteers exclusively staff Rich City Rides, thus adding a community engagement and empowerment aspect to our program in a community that historically has been on the outskirts of local development efforts." Rich City Rides offers 5 signature programs; 1) Earn-A-Bike, 2) the Commuter Cyclist, 3) the RCR Community Shop, 4) Bike Valet and 5) Bike Clinic.
---
2014
Ohio City Bicycle Co-op
The mission of the Ohio City Bicycle Co-op (OCBC) is "to promote the use of bicycles in greater

Cleveland and engage area youth and adults in cycling activities that foster independence, resourcefulness, and good health. The OCBC works to accomplish this by offering safe cycling and bike repair education, Earn A Bike programs, and a consumer's cooperative bike shop; by providing dependable used bikes and accessories; and by producing cycling events and tours that impart skills while encouraging riding for fun, fitness and practical transportation." OCBC has always been special to SBF because it is where Sylvia bought her Peugeot cycle. Over the years since Sylvia was killed, OCBC's director Jim Sheehan has been instrumental in organizing annual bike rides in Sylvia's memory. These rides, emphasizing the need for safety, have been well covered by Cleveland's media. This is the second SBF Grant.
Truly Living Well for Natural Living Agriculture
"Truly Living Well grows better communities by connecting people with the land through education,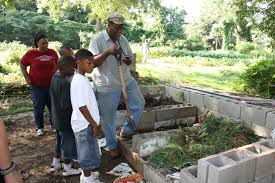 training, and demonstration of economic success in natural urban agriculture. TLW demonstrates sustainable and economically viable solutions for helping people to eat and live better." SBF chose to support TLW because of its dynamic leadership, commitment to serving low-income communities in Atlanta, GA and also because a former law clerk of Steve's is currently a VISTA volunteer there, reminding us of Sylvia's VISTA status in Cleveland.
Bayview/Hunters Point Community Legal
BHPCL was started by a former law clerk of Steve's and her classmate. They opened a store-front office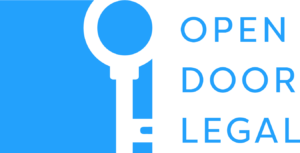 in the highest-need neighborhood of San Francisco, Bayview/Hunters Point soon after graduating from law school. BHPCL has no restrictions on the types of legal issues it handles and has an impressive network of volunteers and community support. Some of its legal work involves improving the neighborhood's economy through transactional 'community development' projects. SBF was thrilled to make a grant just in time for BHPCL to reach a new crowdfunding goal in August. The grant has special meaning for SBF because in 2009 Sylvia had applied to work at the Legal Aid Society of Cleveland as a VISTA but was accepted by Hard-Hatted Women first.  BHPCL is now known as Open Door Legal.
Seedleaf
Seedleaf is in Lexington, KY. Its mission is to give people a chance to grow food and to promote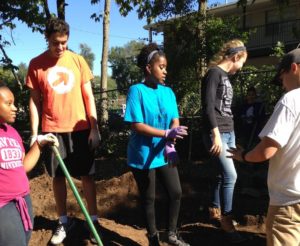 availability of good, nutritious food by installing and maintaining community gardens in and around Lexington. It has programs for school-age children, facilitates group development experiences through work in its gardens, provides volunteer opportunities for gardeners and provides a space for therapeutic interventions, particularly for those in recovery from drug/alcohol abuse and eating disorders. SBF chose to provide a grant to Seedleaf because of its wonderful work but also because Sylvia's cousin Eliana Shapere volunteered at Seedleaf.
San Francisco Bicycle Coalition
With seed funding provided by SBF, SFBC will conduct regular trainings of SF Police Officers to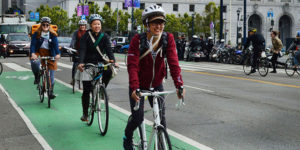 encourage fair and equal treatment for bicyclists & pedestrians. SFBC will collaborate in this effort with Walk SF, a pedestrian advocacy group. The trainings will have a "train the trainer" approach to ensure SFPD fully integrates the program internally.
SBF's commitment to fund this police training grew out of the tragic death of Amelie Le Moullac in San Francisco in August 2013. She was killed in the same way as Sylvia: a right hook by a commercial box truck. SFPD conducted no serious investigation. The cyclist was immediately blamed by police for her own death. Nearly a week later, a SFBC member found a video tape in 10 minutes that conclusively showed the truck driver was at fault. Only then was the driver prosecuted. SFBC presented more than a score of speakers at a SF Board of Supervisors hearing, all of whom testified that SFPD officers had blamed them for the crashes they were involved in. It was evident from their testimony that all of them had been hit by motor vehicle whose drivers who were at fault. SFBC then committed to develop a training for police officers so they better understand the rights of cyclists and how to properly investigate bike crashes.
---
Donor-Advised Grants of $1000-2000 were made by Peace Development Fund on behalf of Sylvia Bingham Fund from 2010-2013.
2013
University Settlement
The Summer 2013 Bike Camp was a 5-week program run in collaboration with the Ohio City Bicycle Co-Op. Ten qualifying campers, ages 10 – 13, participated in bike safety, maintenance and bike riding training, including group rides with routes designed to experience both city and trail terrain. The cyclists learned valuable bike repair skills while also contributing volunteer service hours repairing donated bikes at the Co-Op. The grant helped purchase ten bicycles, locks, tool kits, backpacks, spare tubes, and helmets.
Coleman Advocates for Children and Youth
Coleman is a member-led, multi-racial community organization that has become the leading voice for low-income youth and families in San Francisco. Through grassroots leadership development, youth and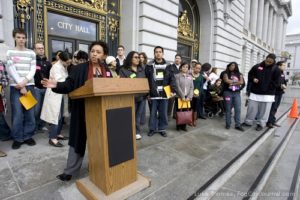 parent organizing, budget and policy advocacy, civic engagement and strategic alliance-building, Coleman has transformed public institutions, improved the lives of tens of thousands of residents, and become a national model for community-driven change. There are currently three priority areas: education equity, workforce development and budget justice/progressive revenue. The groups Youth Making a Change and Parents Making a Change organize and build the leadership of high school students and parents in the San Francisco Unified School District. Students Making a Change organizes community college students at City College. Steve has been on Coleman's Board of Directors for many years and will be its treasurer beginning fall 2013. This grant was for general support.
Dwight Hall
Through the extraordinary effort of Sylvia's roommate during their four years at Yale soliciting donations from their mutual Yale friends, SBF was able to fund the Sylvia Bingham Summer Fellow. The

Dwight Hall fellowship program requires students to identify critical needs in the New Haven community, craft a proposal to address the need, implement their project design, and develop a plan to sustain the impact of their efforts beyond the summer. Sylvia interned with City Seed through Dwight Hall. City Seed was awarded grants by SBF in 2011 and 2012.
Marin County Bicycle Coalition
This grant will fund the Canal Bicycle Safety Project which will provide a bicycle workshop series for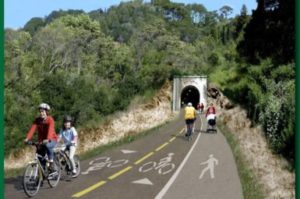 Latinas living in the Canal district of San Rafael. Those living in this immigrant community rarely have access to cars. MCBC's goal is to increase safety for everyone riding in the community and to introduce bicycling as a mode of transportation that can gain them access to jobs and services far afield of the local transportation system. MCBC will provide bicycles, locks and helmets to the women, and offer a series of workshops in Spanish to teach them how to ride safely.
Enriching Lives through Music
ELM is located in the Canal district of San Rafael, one of the poorest areas of Marin. It teaches kids to play instruments in an orchestra but is much more than a music program. It is as much a youth and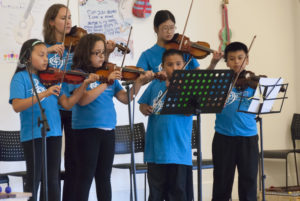 community development program as it is an arts one. It enables children to connect with themselves and others through participation in a music ensemble. Through this they deepen their connection with their family and community. It is inspired by El Sistema which originated in Venezula and is based on the idea that an orchestra is a beautiful metaphor for becoming a citizen through developing discipline, focus and responsibility to oneself and one's peers. No child is turned away from participation in ELM for lack of resources.
California Bicycle Coalition
(CBC) does advocacy at the state level where most bicycle policy is made and has significantly increased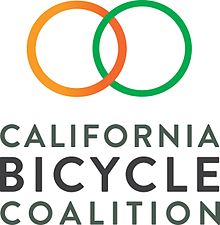 bike usage and safety through education, organizing, and advocacy. This grant helps fund a new, "Give Me Three Education Project" to educate motorists that they need to provide three feet of clearance when passing bicyclists from behind, since these collisions are the leading cause of adult bicyclist fatalities. CBC will work with the Dept. of Motor Vehicles to significantly improve guidelines and publications and will also lead local, grassroots advocacy groups to educate motorists and cyclists on the need to provide sufficient clearance.
Trips for Kids
Marin Chapter provides lessons in self-confidence, environmental awareness, and healthy habits to disadvantaged youth through the simple act of having fun on mountain bikes.
The SBF grant will pay for safety equipment that will be in a special display in the shop with a poster about Sylvia. The equipment will be offered at a steep discount to low-income cyclists from Marin.
---
2012
Hard-Hatted Women
Hard-Hatted Women is a Cleveland-based organization that works in Ohio to empower women to achieve economic independence through nontraditional employment. Sylvia had just begun working at HHW in September, 2009.
City Seed (New Haven)
City Seed promotes local farmers markets and provides low-income families with better access to fresh and locally grown food. Sylvia created promotional materials for City Seed, including a poster to promote farmers markets among Food Stamp and WIC recipients in the state of Connecticut.
---
2011
City Seed (New Haven)City Seed promotes local farmers markets and provides low-income families with better access to fresh and locally grown food. Sylvia created promotional materials for City Seed, including a poster to promote farmers markets among Food Stamp and WIC recipients in the state of Connecticut.
Drawbridge
Drawbridge is a creative arts program for homeless children and youth, operating in seven counties in California that include San Mateo, Alameda, San Francisco, Sonoma, Santa Clara, Santa Cruz and Marin Counties.
Trips for Kids
Marin Chapter provides lessons in self-confidence, environmental awareness, and healthy habits to disadvantaged youth through the simple act of having fun on mountain bikes.
Ashoka's Youth Venture SF Bay Area
JUST FOOD program supports teams of young people to lead their own ventures to promote Food Justice in the East Bay (i.e. eastern side of the San Francisco Bay). Young entrepreneurs learn to develop social enterprise models, or earned-income strategies, to support the sustainability of their ventures.
Mike's Bike Foundation
The Mike's Bikes Foundation's goal is to jumpstart self-sustaining local businesses and create supply chains of new and used bikes in African countries. The foundation provided start-up funding and mentoring to African bike dealers through its Sister Shops program in Zimbabwe in 2010, Namibia in 2009 and Botswana in 2008. In 2011 the Foundation established a partnership with the Village Bicycle Project (based in Seattle) to support their network of rural bicycle shops in Sierra Leone with a central, urban distribution center located in a Mike's Bikes Sister Shop.
Village Harvest
Village Harvest is a nonprofit volunteer organization in the greater San Francisco Bay Area, which harvests fruit from backyards and small orchards, then passes it along to local food agencies to feed the hungry. They also provide education on fruit tree care, harvesting, and food preservation.
Ohio City Bicycle Co-op
The Co-Op in Cleveland is a volunteer-driven, cooperative bicycle education center which offers bike riding lessons, teaches bike repair and sells used bikes. Sylvia got her Peugeot there.
Walk+Roll, Cleveland
Walk+Roll is a non-profit organization founded by well-known Cleveland cycling activist Lois Moss. In addition to her advocacy work, she has organized countless events to make Cleveland a safer place to bike. This donation finances one of Lois's newest projects: the purchase of bicycle lights to be distributed and installed by Alex Nosse (who was Sylvia's boyfriend) and Renato Pereira-Castillo who jointly own and operate a new community-oriented bike shop in Ohio City, the Joy Machines Bike Shop. Alex and Renato speak fluent Spanish and are interested in doing advocacy work among those who rely on bicycling as the only affordable mode of transportation. The bicycle lights distribution/installation project will also create a new awareness about road safety (in particular to promote safer practices among cyclists when riding at night) and to remind motorists of the need to share the road with cyclists. Cyclists are too often perceived by the general public as annoying risk-takers.
2011 International Green Schoolyard conference
Architects/Designers/Planners for Social Responsibility (ADPSR) in partnership with the San Francisco Green Schoolyards Alliances organized Engaging Our Grounds, the First International Green Schoolyards Conference in the United States, held September 16-18, 2011, at multiple sites in the SF Bay Area. The conference featured presentations by leaders of a growing worldwide movement to transform school grounds into living ecological oases for learning and play.
---
2010
One Fam (Bikes 4 Life)
One Fam Bikes 4 Life is a community bicycle shop in West Oakland that organizes community biking events and mass bike rides and sells bicycles and accessories at affordable prices. Donations will help support education for bike safety.
People's Grocery
The goal of People's Grocery is to build a local food system that improves the health and economy of West Oakland. The organization grows food, sells fresh produce at affordable price via its Mobile Market (a grocery store on wheels) and offers urban gardening, community outreach, business classes and cooking and nutrition workshops.
Hard-Hatted Women
Hard-Hatted Women is a Cleveland-based organization that works in Ohio to empower women to achieve economic independence through nontraditional employment. Sylvia had just begun working at HHW in September, 2009.
Love Cultivating Schoolyards
This offshoot of Oakland Leaf works with children at inner city schools in Oakland, California, to create school gardens. Love Cultivating Schoolyards seeks to improve student and family nutrition and more generally promote a sustainable way of life. Sylvia grew up in Oakland and volunteered in community gardens there during her teenage years, while living in Marin County.
Yale Dwight Hall
This group connects Yale students with volunteer activities in New Haven. Sylvia received a Dwight Hall Summer Fellowship in 2007, during which she worked for City Seed.
Next Generation
Based in Marin County, Next Generation helps local youth to develop leadership skills and to take grassroots action for peace and sustainability. Next Generation helped Sylvia become an organizer and activist while at Terra Linda High School In San Rafael, CA.
Telluride Assn Summer Program
TASP is a high school summer study program for Juniors designed to bring together young people who share a passion for learning. Sylvia attended this program in 2004 at the Univ. of Michigan and loved the experience!