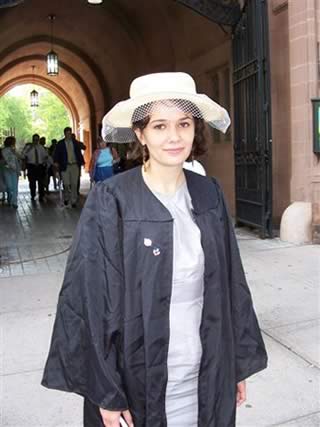 Orginally posted on New Haven Safe Streets Coalition
News today of a tragic loss in Cleveland, Ohio, at the hands of a hit-and-run truck driver. The local Fox News affiliate reports that Cleveland Police say 22-year-old Sylvia Bingham was riding in the curb lane of Prospect Avenue at East 21st Street around 9 A.M., just a few blocks from where she was to start work that morning. A large truck turning onto East 21st hit Bingham, knocking her off of her bike and running over her. The truck didn't stop (though the driver was later found).
Fox also features an interview with Sylvia's colleague and photos of the scene, which is clearly not a "complete street" despite being in the heart of a dense urban district.
Details are still sketchy, but unfortunately, the facts of the story sound painfully similar to a 2006 incident in which Alex Capelluto (who was one class ahead of Sylvia at Yale) was killed by a truck while bicycling in West Haven, on the way back to campus from the Yale Boathouse.
A native of California, Sylvia had just moved from New Haven to Cleveland to serve as an AmeriCorps volunteer, and was extremely passionate about improving her new city. Until her recent move, she had frequently been observed bicycling around New Haven. More about Bingham from Cleveland.com:
The 22-year-old Yale University graduate was killed Tuesday as she rode her bicycle to work at the Hard Hatted Women office, where she helped tradeswomen become mentors.
"She rode her bike to work from Ohio City to promote being green and encouraged others to do the same," said Terri Burgess Sandu, executive director of Hard Hatted Women in Cleveland. "I only knew her for a short time, but she was everything — the shining example of what is best in American adults."
"I am passionate about eliminating urban poverty, particularly by creating job opportunities in the skilled trades," Bingham described herself, on her LinkedIn page.
On Sylvia's intelligence and excitement about cities, New Haven historian Anstress Farwell wrote:
I was lucky to meet Sylvia, and witness the blooming growth of a person of exceptional intelligence and a good heart. She was taking a course with Doug Rae, and contacted me when scouting for a local development project to research. She chose Dixwell Plaza. In addition to reading about the history and architecture of New Haven's redevelopment period, she interviewed store owners and customers about their use of the place. She had great talent for field work because she could put herself in other people's shoes. She was destined to do great work in the world. Her death is a tragic loss.
Also see coverage by the Yale Daily News. Another Yale Daily News post interviews students and faculty about her life:
Bingham, who just moved to Cleveland for a job at organization that helps impoverished women, was a vivacious and dedicated woman – an inspiration to all who crossed paths with her. Effervescent, vivacious, and compassionate, Bingham lived her ideals, striving to improve the world while always taking the time to care for her friendships.